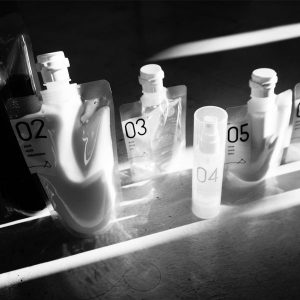 1. A necessity for Salon ichi®. "Revitalizing" care series (蘇生系®/SOSEIKEI).
Since our establishment in 2003, Salon ichi® has been supported by our repeater clients which exceed 95% and hail from all over Japan.
We have been helping our clients to further draw out their natural charms.
During sessions with our clients, the desire to meet their real needs naturally builds up within us, and this desire serves as the inspiration for our product development. In the beginning, we were a small salon.
We were committed to products made in Japan and worked to integrate them with the latest technology.
As a result of trial and error, the "Revitalizing" care series (蘇生系®/SOSEIKEI) was born, maximizing the advantages of both nature and technology.

2. The closest texture to natural products
Organic products have been a fad in recent years, but natural products are not necessarily superior.
There are various standards for organic materials, and currently, COSMOS, a European certification organization, is mainstream.
The way in which natural materials are utilized depends on how their ingredients are incorporated.
In particular, when natural materials are applied externally to the skin or hair, they will not hold and merely be washed away.
That is why creativity is needed to draw out the maximum potential of each ingredient.
The key is the way in which technology is utilized.
In Japan, the Pharmaceutical and Industrial Safety Law strictly regulates prohibited and restricted ingredients.
Salon ichi®'s "Revitalizing" care series (蘇生系®/SOSEIKEI) complies with the Pharmaceutical Affairs Law.
Our relentless challenge to find ways to incorporate and retain the goodness of natural ingredients in the hair and scalp has brought about an unprecedented approach and made it possible to repair hair from the inside.
Salon ichi®'s "Revitalizing" care series (蘇生系®/SOSEIKEI) also strives to improve the traceability of its ingredients.
"Revitalizing" care series (蘇生系®/SOSEIKEI)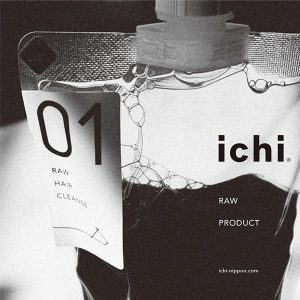 01
RAW HAIR CLEANSE
500mL: 7,260 JPY (tax included)
1L: 12,925 JPY (tax included)
3L: Exclusive to ichi members
Freshly-generated sebum protects healthy skin and hair.
Over time, however, sebum oxidizes and becomes impurities.
By using [01 Cleanse], only the oxidized sebum stains are decomposed and the good quality sebum necessary for the scalp to be cleansed are not harmed.
It does not affect CMC, a good quality fat, and only the necessary ingredients are incorporated while removing oxides not normally able to be removed.
In addition, several natural ingredients, meticulously calculated and blended in the best balance, are planted firmly inside the hair.
This repairs the hair's foundation tissue and leads to healthy and beautiful hair.
In the development of shampoos, the greatest emphasis is placed on cleansing ingredients.
Recently, products that claim to be hypoallergenic to the skin have been increasing, and the focus tends to be on single cleansing ingredients, not only in salon products but also in general.
In reality, however, a single cleansing ingredient is not sufficient, and the cleansing power of a shampoo can only be fully harnessed by blending several types of ingredients.
Essentially, the formulation of cleansing ingredients is the most important element in determining the function of a shampoo, and the skill of the formulator is reflected in the blend of these ingredients.
In recent years, however, with the development of silicones and other additives that make hair easier to run one's fingers through, it has become possible to increase the functionality of shampoo containing additives without having to focus on cleansing ingredients.
While this has made it possible to create shampoos with certain functions, it has not addressed the diversification of hair types, hair histories, and scalp skin types.
In the past few years, there has been a mainstream trend toward non-silicone and organic shampoos, but if the formulation design of the cleansing ingredients remains the same as before, the feel of the shampoo will not be good enough.
In this respect, 01 Cleanse is a blend of betaine, amino acid, and acidic soap in a formulation that is considered optimal, so it removes dirt and grime thoroughly while being non-silicone and gentle to the skin.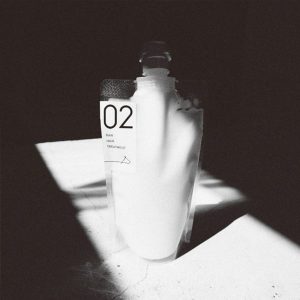 02
RAW HAIR TREATMENT
300mL: 7,260 JPY (tax included)
1L: ¥20,900 JPY (tax included)
3L: Exclusive to ichi members
The objective of treatment is essentially to deliver and plant good quality fat inside the hair to maintain hair quality.
For this purpose, it is necessary to plant good quality fat (CMC) inside the hair.
Without CMC, perms and color cannot be retained.
While shampoos focus on the blend of cleansing ingredients, treatments focus on the blend of oils.
It has been demonstrated that when CMC is leached from the hair due to damage, the hair's ability to retain moisture diminishes, leading to dryness and other poor hair quality.
[02 Treatment] replenishes lost lipids by blending ingredients similar in structure to CMC lipids.
In addition to CMC lipids, vegetable oil with a composition similar to that of sebum helps to maintain the balance of moisture and oil in the hair, resulting in a supple texture with radiance and bounce.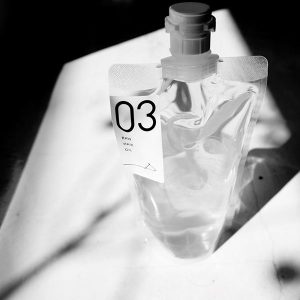 03
RAW HAIR OIL
100mL: 6,578 JPY (tax included)
300mL: Exclusive to ichi members
Oil is essential to protect and moisturize skin and hair, but ideally, it should be kept from oxidizing for as long as possible.
To prevent oxidation, high-quality natural oils are essential.
In order to carefully select only the purest parts of a premium oil, a separator is required to thoroughly eliminate the sediment. By doing so, we are able to produce an oil that is resistant to oxidation.
(Even good quality extra virgin olive oil fit for human consumption will oxidize in direct sunlight if it contains sediment.)
The primary requirement of hair oil is to care for and protect the hair cuticle.
Therefore, ichi focused on CMC specific to cuticles, called "Cuticle CMC."
By uniquely blending cholesterol with 18MEA, an oil that exists on the cuticle's surface layer, cuticle care that has not been possible with conventional hair care products is now possible.
18MEA carries sebum from the pores to the tips of the hair and protects the cuticle, but it diminishes due to ultraviolet rays, hair coloring, and permanent wave damage. Cholesterol also holds the cuticle together and carries moisture and other substances, but this decreases as well due to hair coloring, perm damage, and aging.
[03 Oil] replenishes the deficient 18MEA and cholesterol, restoring the original texture and luster to damaged hair and making it possible to care for damage.
03 Oil can also be used on the skin.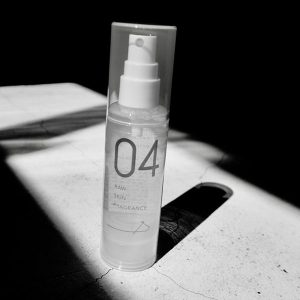 04
RAW SKIN FRAGRANC
50mL: 9,878 JPY (tax included)
300mL: Exclusive to ichi members
[There are five characteristics of [04 Skin Fragrance.]
04 Skin Fragrance's first characteristic is it's fragrance effect developed under the supervision of a perfume master. The delicate fragrance of Kyara, which possesses tartness, astringency, and sweetness, the three major elements of a noble fragrance, reminds one of a cool breeze blowing through an ancient Japanese temple.
Use it in the morning to wake up feeling refreshed and active, during the day for refreshment, and at night for relaxation before bedtime.
The second characteristic is the use of fucoidan, an advanced natural high-moisturizing polysaccharide, to enhance skin beauty and moisture retention.
Fucoidan is recognized for its long-lasting moisturizing effect, surpassing that of hyaluronic acid.
Third, the most effective yeast extract for keeping skin clean. A special yeast extract containing zinc repairs the scalp and hair.
Fourth, it contains carefully selected premium, high-purity oils and Japanese and Chinese extracts.
Finally, it contains dipotassium glycyrrhizate.
04 Skin Fragrance is a natural skin care lotion that utilizes nature's blessings without relying on chemicals.
It can be used not only for repairing the scalp and hair, but also for the entire body.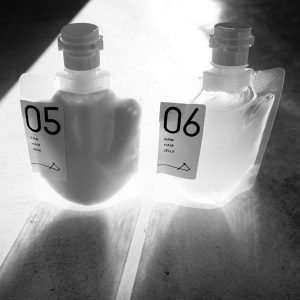 05
RAW HAIR WAX
100mL: 6,578 JPY (tax included)
06
RAW HAIR JELL
100mL: 6,578 JPY (tax included)
[05 Wax] is a hair wax formulated with 15 botanical ingredients and designed with skin care in mind.
The natural setting ingredient, Candelilla wax, holds hairstyles in place.
[06 Jelly]is a hair gel formulated with 14 botanical ingredients and designed with skin care in mind.
Polylysine, an amino acid polymer, keeps hairstyles in place.
[05 Wax]gives an airy, matte yet firm texture.
[06 Jelly] gives an edgy and firm texture.
[03 Oil] is an essence styling product that goes beyond the balm category, repairing hair to make it lustrous.
Mixing 05 Wax and 06 Jelly creates a jelly wax texture, while mixing 03 Oil with each creates a silky texture.
In this way, the possibilities for combining 03, 05, and 06 are endless. It can easily cope with changes due to seasonal humidity and dryness, and protects hair from damage and dryness caused by hair treatment and UV rays.
The recommended amount to use is
Short: About the size of a 1 yen coin.
Medium to long hair: About the size of one or two 100 yen coins.
Mix 1:1, 2:1, or 3:1 depending on the desired texture.
[03] gives a natural glossy set.
[05] gives an airy matte set.
[06] gives a shiny edge set.
Mix 05 and 06 at 1:1 to make jelly wax.
Mix 05, 06, and 03 at 1:1 to make soft jelly wax
Master the styling that suits you best according to your hair length, weight, hairstyle (airy, curly, dry, wet, soft, hard, shiny, spiky, stylish and special occasion), mood and fashion sense.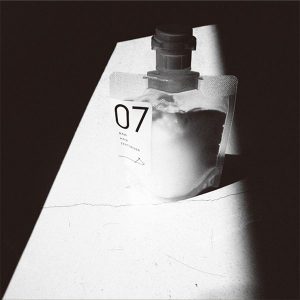 07
RAW HAIR TEXTURIZER
100mL: 6,578 JPY (tax included)
[07 Texturizer] is an ultra-concentrated hair pack with limited conditions of use.
Today, with the diversification of designs, hair damage caused by hairstyles is growing more serious.
Most of the damage can be sufficiently repaired internally by using the Revive System® Care Series 01 Cleanse, 02 Treatment, and 03 Oil, but there are cases where the original Revive System® Care Series cannot repair excessive damage caused by coloring and perms, high bleach damage, damage caused by heat irons, excessively dry hair due to body constitution, and other special types of extreme damage that cannot be repaired by the original Revive System® Care Series. 07 Texturizer was developed for special types of severely-damaged hair unable to be fully repaired by the original Revive System® Care Series.
Severely-damaged hair is in a state where the hair is extremely alkaline and the cuticles remain open, making it impossible to maintain the original shape of the hair.
[07 Texturizer] is rich in valuable ingredients used in Salon ichi® treatment.
In particular, two types of organic acids repair cuticles and bring them back to their original shape, leading to a solution from the inside.
Heat Active PPT replenishes and protects damaged cuticles and gives hair moisture and shine.
These ingredients enable internal repair similar to salon ichi® treatment.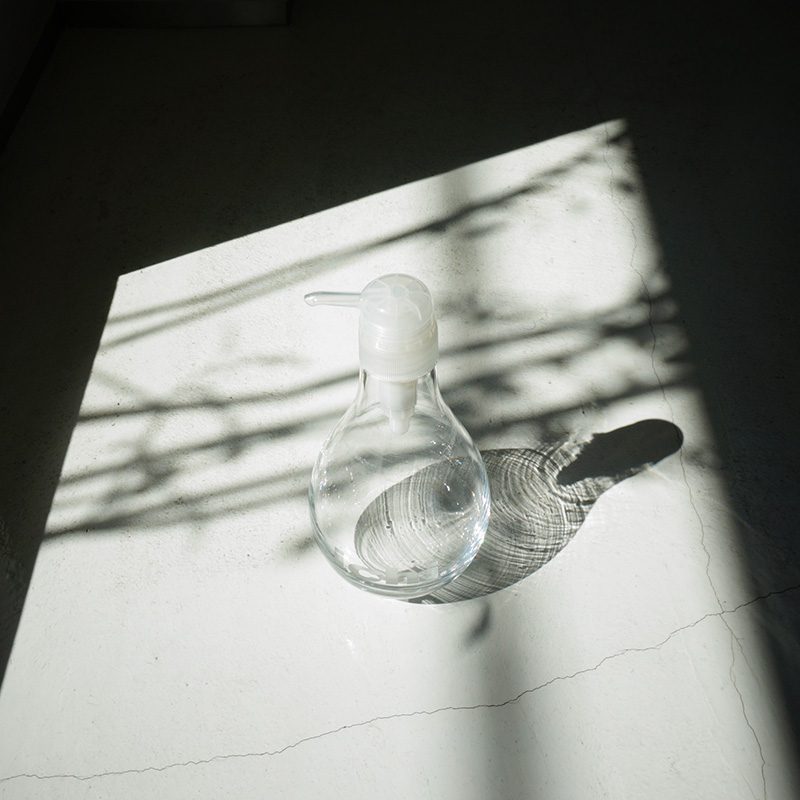 ichi®×Sghr

Original bottle
sold out
500mL: 13,068 JPY (tax included)
Since its establishment in 2003, ichi®︎ has always cherished the charm of glass.
Our encounter with Sghr / Sugawara Kohgei Glass, a world-class handmade glassware brand from Japan, was the perfect opportunity for us to put a shape to our commitment to glass, which ichi®︎ has always valued.
The bottle design was based on the image of ichi®︎'s representative, Mr. Ishii, and was refined by the staff of Sghr.
The skill of the seasoned artisans who hand-blow the inflated glass and instantly shape it into an haute couture bottle is truly awe-inspiring.
We hope that ichi®︎ members will feel the warmth of handmade glass when they lay eyes on this item.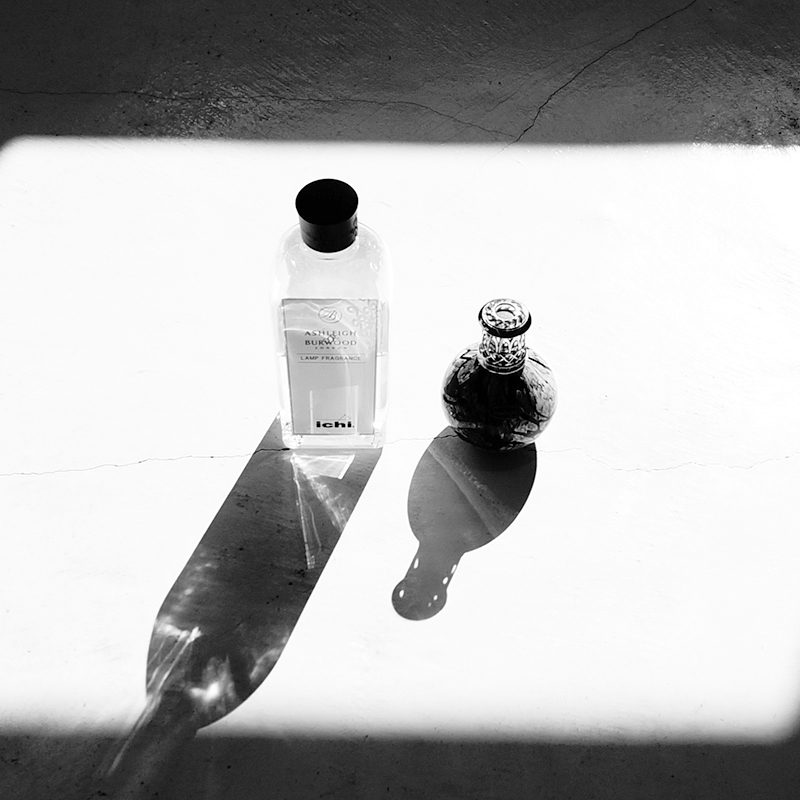 ichi®×Ashleigh & Burwood

Ashleigh & Burwood
ichi limited design lamp: 6,380 JPY (tax included)
Special fragrance oil: 3,850 JPY (tax included)
Ashleigh & Burwood is a lamp brand that uses plant-derived fragrance oil.
ichi®︎ has collaborated with the renowned lamp brand in England, the home of aroma.
Ashleigh & Burwood products are sold at Isetan Shinjuku and other prestigious department stores in Japan, but this fragrance lamp is a special limited edition not yet available in Japan and is a very rare item unable to be found elsewhere.
This oil is great for use in summer, when germs tend to multiply, as well as in winter, when viruses multiply.
ichi®︎_book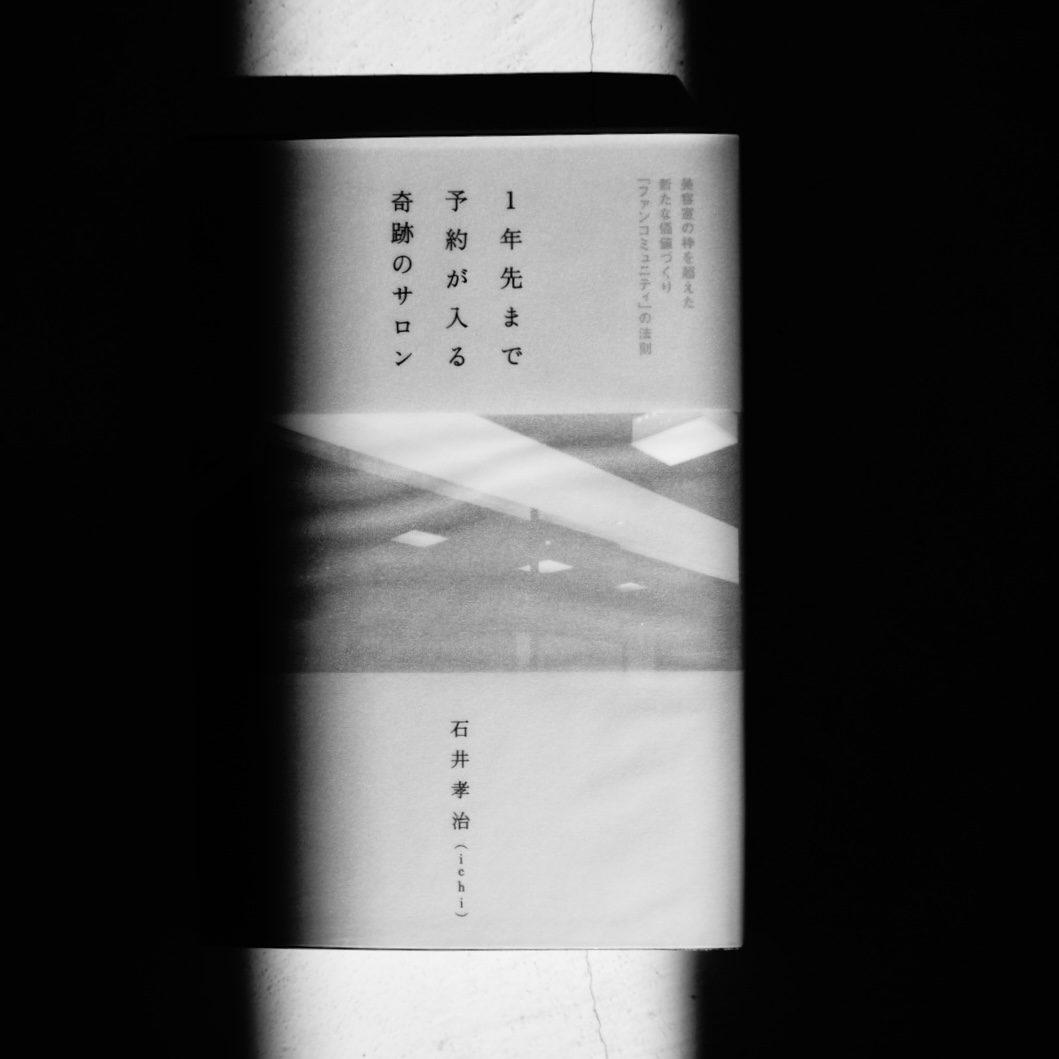 The Miraculous Salon Taking Appointments a Whole Year Ahead

Koji Ishii (Author)
It was indeed the beginning of new value creation in the field of beauty and beauty salons.
ichi®︎ began to realize the close relationship between beauty and lifestyle before 2003, and set its concept as "designing lifestyle design."
The philosophy has been reliably conveyed to clients, and the salon is currently booked up to a year in advance.
The repeater client rate is over 95% - an astounding figure.
We can easily say "let's create new value unbound by industry thinking," however, in reality, it is difficult to break free from the status quo.
What kind of perspective and thinking did Koji Ishii, president of ichi®︎, bring to the table when breaking new ground?
We will explore his creative branding theory.
特定商取引に基づく表記
Notation based on Specified Commercial Transactions
Seller: ichi inc.
Representative Director: Koji Ishii
Postal code: 336-0015
Address: 5-23-12, Daitakubo, Minami-ku, Saitama-shi, Saitama
Description of charges other than the price of products
Product price (including/excluding tax) + Shipping fee + Cash on delivery fee
(1) Shipping charges
The following shipping fees will be charged separately.
(2) Cash on delivery fee
Less than 10,000 JPY: 315 JPY
Less than 30,000 JPY: 420 JPY
Less than 100,000 JPY: 630 JPY
Up to 300,000 JPY: 1,050 JPY
Shipping fee
Basic shipping area: 630 JPY
Aomori, Iwate, Akita, Yamagata, Miyagi, Fukushima, Ibaraki, Tochigi, Gunma, Chiba, Tokyo, Kanagawa, Yamanashi, Niigata, Nagano, Toyama, Ishikawa, Fukui, Shizuoka, Aichi, Mie, Gifu, Shiga, Kyoto, Osaka, Hyogo, Nara, Wakayama, Tottori, Okayama, Shimane, Hiroshima, Yamaguchi, Kagawa, Tokushima, Ehime, Kochi
<Delivery to Hokkaido, Kyushu, Okinawa, and remote islands: 945 yen
Hokkaido, Fukuoka, Saga, Oita, Kumamoto, Nagasaki, Miyazaki, Kagoshima, Okinawa
Order expiration date
In case of a stock shortage, we will contact you by e-mail or phone.
Sales quantity
We will contact you by e-mail, phone or fax if we run out of stock.
Delivery time
As a general rule, we will deliver your order within one week after receiving your order.
We will ship via a home delivery service within 3 days of the order being placed.
We will contact you by e-mail, phone or fax to inform you the exact number of days until delivery.
Payment methods
Cash on delivery (COD): Please pay the delivery person directly upon delivery of your order.
Postal transfer and bank transfer: You can transfer the money from your nearest financial institution.
Credit card
AMERICAN EXPRESS, Diners, VISA, MASTER, JCB
Credit cards are accepted.
The number of times you can pay by credit card depends on your credit card company.
Payment deadline
Cash on delivery (COD): Please pay the delivery person directly upon delivery of your order.
Postal transfer and bank transfer: Please transfer the amount to the designated financial institution within 7 days after placing your order.

Returns deadline
Please contact us within 8 days of receiving your order.
Please refrain from returning or exchanging items for no specific reason. If there is a defective item, we will replace it immediately.
Return shipping costs will be charged.
In the case of defective or wrong items, we will bear the shipping cost.
If the return is for any other reason, please bear the return shipping cost yourself.
Contact us
For inquiries, please contact
TEL +81 48-885 3915
FAX +81 48-885 3915
E-mail address: info@ichi-nippon.com